Junior Program
Junior Clinics
A group class setting intended to be the core training method for Juniors.
2 to 3 participants per coach/court.
Clinics are scheduled and Priced based on "Staff Level" (Hisham Ashour, Advanced, Club Level, etc. Please see below)
Main Benefits:
To induce the sense of competitiveness between participants.
Longer in duration than private lessons.
The incorporation of Match Play to implement what was learnt in practice.
Clinic Offerings:
Junior Clinic
Staff Level: Hisham Ashour
$120/1hr, $180/1.5hrs
Junior Clinic
Staff Level: Advanced 
$100/1hr, $150/1.5hrs
Junior Clinic
Staff Level: Club Level
$80/1hr, $120/1.5hrs
Squash Primer
Staff Level: Club Level
The fundamentals of form and technique $80/1hr, $120/1.5hrs
Tournament Preparation Clinic
Staff Level: Advanced 
A workshop specializing in decision making and shot selection in matches $100/1hr, $150/1.5hrs
Scheduling:
Scheduling is based on careful matching of participants. Please contact Squash Director to inquire.
2016 – 2017 Season Clinic Schedule:
Registration for clinics is for entire term. Partial enrollment not permitted. New participants can register after first day of term and be prorated for the all remaining sessions of term.

(*) School holiday. Squash Program off. Private sessions can be arranged privately with coach on school holidays.
Private Lessons
Private lessons focus on specific technical challenges with form or when matching a junior in a clinic setting proves difficult.
Therefore they are meant to compliment Junior Clinics rather than an exclusive mode for training. Privates are scheduled through the Squash director. Please contact for inquiries. All Privates Lessons are 45 minutes. One hour privates can be specially arranged based on availability and with pricing adjustments.
Private Lessons (45 Minutes)
Hisham Ashour
$250
Andrew Wagih (Advanced Staff)
$175
Omar Mohy (Advanced Staff)
$175
Club Level 2 Staff
$125
Club Level 1 Staff
$100
Junior Team Training
A comprehensive weekend training session and a perfect platform for Juniors to hone their skills and implement what was learned in practice.
Open to all juniors, within or outside the program
Includes:
– Drill Sets
– Fitness
– Match Play (75% of session)
Saturday, Bronze to Silver Level
1 PM to 3 PM
$55
Sunday, Silver to Gold Level
1 PM to 4 PM
$75
Coaches
Omar Mohy
Andrew Wagih
Thaisa Serafini
Ona Prokes
Drop-ins welcome. RSVP highly recommended. Contact Squash Director for registration
Hisham Ashour Academy Summer Camps 2017
All CityView Summer Camps are held on premises and are day camps. For Registrants from out of town, the program can assist in arranging accommodations for the week. All camps are from Monday to Friday. Participants must pack their own lunch.
Silver and Gold Level Juniors
Monday to Friday
2 PM to 6:30 PM
$1150
Bronze Level Juniors
Monday to Friday
9 AM to 2 PM
$750
Coached by World Class International Coaches:
Hisham Ashour
Omar Mohy
Andrew Wagih
Thaisa Serafini
Ona Prokes
The camps encompass every aspect of Squash training, including:
1- Drill Sets
2- Conditional Games
3- Coached Match Play
4- Racquet Skills drills
5- Fitness and Strength
6- Shot selection and Decision Making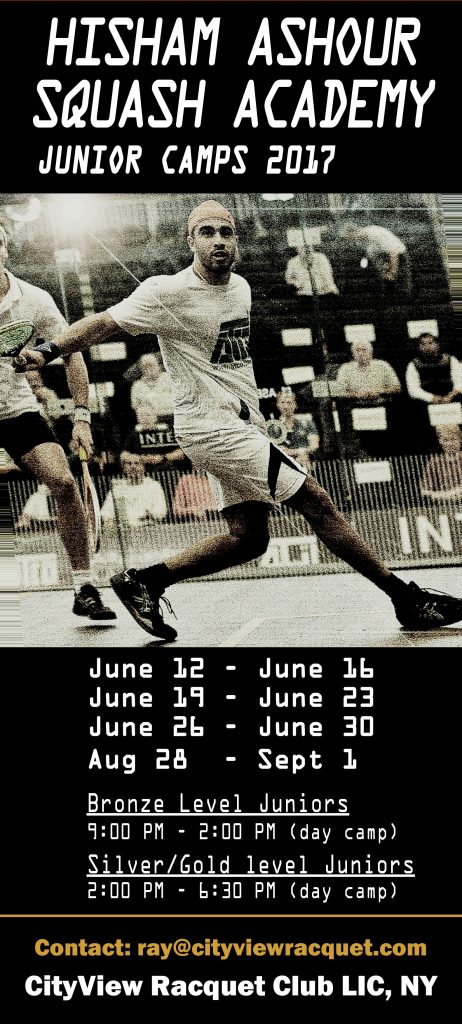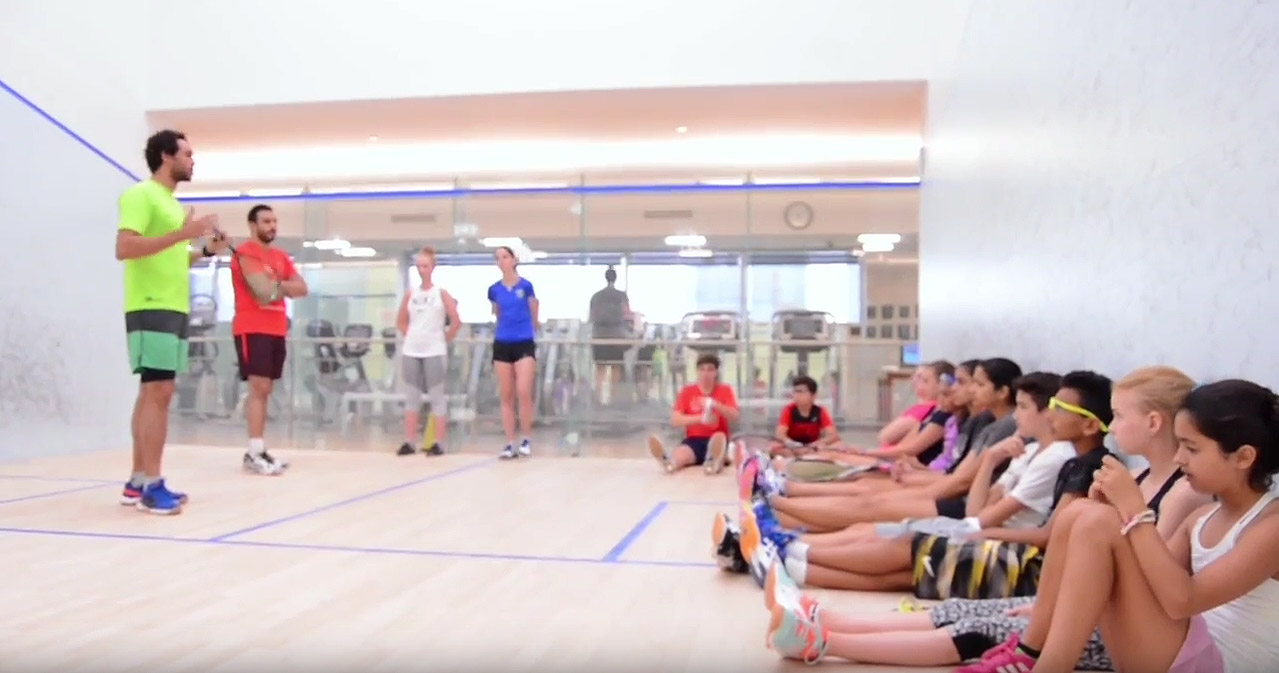 2016 Ramy and Hisham Ashour Summer Camp
Junior Tournaments
COMING SOON
Fitness and Strength Training
CityView Junior Squash integrates fitness and strength training within the daily schedule of Junior Squash training. Sessions are held from 4 PM to 6 PM, Monday to Thursday (or by appointment).
Conducted by coach Ona Prokes.
Session: 25 mins | $20
Transportation
CityView van system: CityView Club provide van pickup and drop off to and from Manhattan to the club. Pickup is typically at 3:15 to 3:20 PM for arrival at the club at 4 PM. Departure from the club is at 5:30 for drop off to desired locations in Manhattan. Please check availability and pricing with
Paula Cia at paula@cityviewracquet.com
Subway from Manhattan: 7 (Local) train to 33rd Street/Rawson Street station.